Monsoon showed its disastrous form in Jharkhand capital too
Ranchi, Sept. 9: Monsoon rain is a natural phenomenon but in case preparation is not done properly to ensure its optimum use for the development of mankind it can be disastrous.
After flood of Bihar, it was noticed in the plateau region of South Chotanagpur when the heavy rainfall hit Jharkhand capital on Monday and a youth from Hazaribagh, Umesh Rana, washed away with his motorbike while attempting to cross a culvert over a drain in Kokar under Sadar police station area and a team of National Disaster Response Force (NDRF) had to deploy to search him.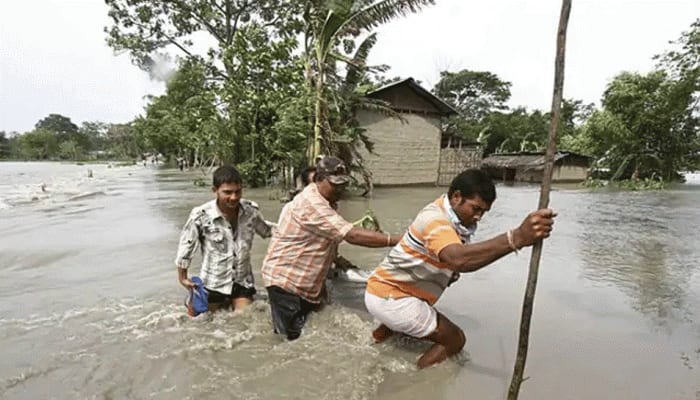 This was not the first time this situation occurred in the Jharkhand capital which is situated on the plateau and is known for cricket star Mahendra Singh Dhoni, mother of industries Heavy Engineering Corporation, mental asylum Central Institute of Psychiatry besides others. Last year a five-year-old girl in Ranchi's Hindpiri area drowned to death, when she slipped into an overflowing drain after heavy showers and was drifted away three kilometers. She was on way to her tuition class when the incident took place.
Places like Upper Bazar, City Centre Mall, Argora, Harmu Road are some of the places in the state capital where sewage water can be seen overflowing on the road after every rain in the city and people can be seen negotiating with water in pot holes to walk and drive properly. Those having their houses beside the road have hard times passing their time as overflowing drain water enter in their houses and causes damages.
Ranchi Municipal Corporation's (RMC) is expected to take care of for proper management of water in drain but unable to stop unplanned development the civic body appears helpless and its attempt to ensure proper drainage is perfunctory at best as so far it has not come with any proper drainage plan that can channelize drain water and ensure its deposition in river after proper treatment