Ranchi forest division rolls out QRTs to detect forest fires
Our correspondent
Ranchi/Raj kumar: Ranchi forest division on Monday rolled out two fleet of quick response teams in Angara range to detect and douse forest fires ahead of the summer season. The move comes following reports of fires in the forests of Angara and Jonha areas last Friday.
There were no reports of any loss of life, but many feared that such incidents could result in putting wildlife into jeopardy and increase risk of man-animal conflict. "Angara and Jonha is an important corridor for elephants. Fire would force elephants to descend on to areas inhabited by people," said a forest official in Jonha.
Angara ranger officer R K Singh said they have launched fleet of two vehicles for detection of forest fire incident. "From today, we have launched two vehicles, each having a team of seven persons to be on the move along the forested corridors round the clock to detect fire and take immediate action," he said.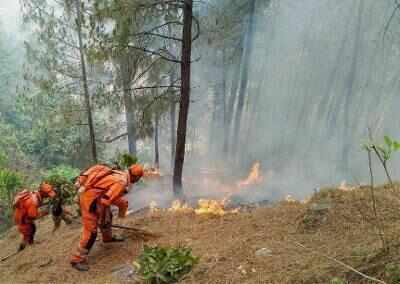 "A new team in the vehicle will be replaced after end of one shift. In each vehicle, we have made provisions of dry food like jiggery, chuda, water etc so that our staffs don't go hungry while on the move. Their job is to strike coordination with local van samitis (village committees) to keep a continuous vigil over fires," he said.
Forest fires are an annual occurrence during summer every year. In many cases, forest department resorts to controlled fires as part of forest management practice to allow rejuvenation of new green lungs. In many cases, forests catch up fires due to the negligence of Mahua pickers who tend to burn the dry leaves to collect mahua flowers. Mahua is used for making local brewery.
"To curb anyone from throwing lighted bidis, cigarettes or other mischief in the jungles to prevent fires, we have now decided to send violators to jail if they are caught red-handed," he said.
eom